Soft-sided above-ground pools made by Intex, Coleman, Bestway, etc. are very popular in the Orlando area.
This type of above-ground is usually easy to buy (from Walmart), in stock, very economical, and easy to install. Finding someone to install it is not easy though.
IT IS ALMOST IMPOSSIBLE TO FIND SOMEONE TO INSTALL A SOFT-SIDED (INTEX-TYPE) POOL IN ORLANDO
Most above-ground pool installers won't install a soft-sided type pool. This is because they are hard to install perfectly level, and the cost for installation is often more than what the pool owner paid for the pool.
In my now 36 years of installing pools in Orlando, I have only installed a handful of Intex (soft-sided) pools. Even though they are extremely easy to assemble, they are time-consuming to get perfectly level, so most won't want to pay more for the installation than what the pool cost.
Occasionally, I will hear about a handyman taking on the job, but they quickly either only install one and never again, or they don't even finish the one they started. This is usually because of the job of leveling the earth
BY FAR, THE HARDEST PART OF INSTALLING A SOFT-SIDED (INTEX, COLEMAN, BESTWAY) POOL IS PREPARING AND LEVELING THE GROUND
As stated earlier, assembling a soft-sided above-ground pool is easy. Most people can handle this even if they are not DIY types. Getting the ground level though is another story.
"To properly install an above-ground pool, all of the grass and its root base(sod) MUST be removed first"
People will want a swimming pool, buy one that is cheap, comes in one box, and is easy to install. Then they will want to be able to install it in their yard as easily and cheaply as they bought the pool.
This often has people trying to install their soft-sided pool just on top of the grass in what appears to be a level area of the yard. After filling the pool with water, they realize that the pool is way too "off-level", so they wind up having to drain the pool and take it back down.
The next most common "shortcut" people make when installing a soft-sided pool is they have a couple of yards of sand delivered. They then spread the sand out at the pool site and OVER THE GRASS and try to make it level.
With this technique, the pool will stay up and full of water a little longer before it starts to tilt and needs to be taken back down.
The best-case scenario here is that the pool stays level, but after a few months, the grass underneath dies and decomposes which causes the pool's bottom to be unbearably bumpy.
WHEN NOT BUSY, I WILL OFFER TO PREPARE THE SITE FOR YOUR SOFT-SIDED POOL IN THE GREATER ORLANDO AREA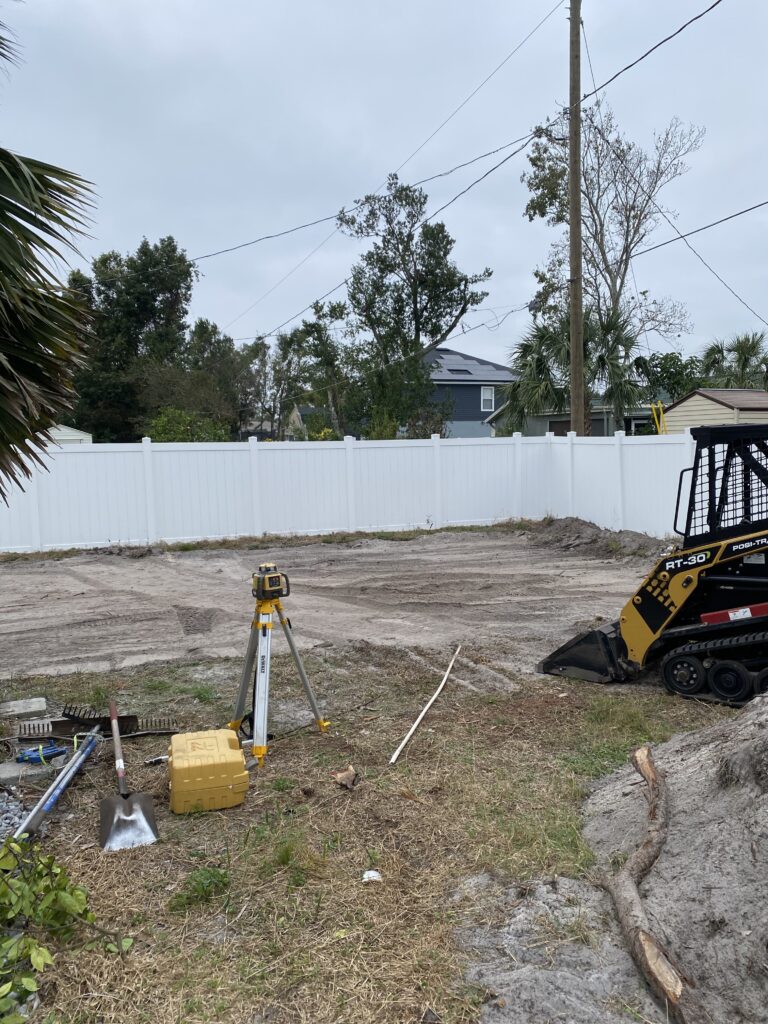 Assembling and installing a soft-sided pool is fairly easy and most can do this, but preparing the ground can be a very hard job.
THE PROCESS AND WHAT'S INCLUDED WITH A GROUND PREPARATION-ONLY SERVICE FOR AN ABOVE-GROUND POOL
I offer to do ground prep only for this type of pool. The average prep job takes me about 3-4 hours. This is what I will do:
1 Get to your home on time
2 Help you decide where you want the pool (if needed) and mark out exactly where you want it to go with spray paint.
NOTE: I will mark out a one-foot bigger area than the pool size all the way around it.
3 Bring in my skid/steer machine and remove all of the grass/sod from the marked-out pool site. I will place the removed grass anywhere in the yard that you want.
NOTE: My machine is 48" wide, so I would need at least 4.5ft wide access to your yard.
4 Using the machine, I churn up the earth at the pool site to soften it, pull out any big roots still attached to the ground, and make sure there is nothing underneath that may affect the pool bottom later.
5 Then I redistribute the earth to get the ground somewhat level again still using the machine.
6 Once fairly level, I set up a laser builder's level and start to hand rake out the area removing larger debris.
7 Using the laser level, I will continue to check the areas of the pool site. I shave down the high areas of earth and add to the low areas until the entire site is within 1/2 inch level or better.
8 During this time-consuming leveling process, I continue to remove any debris (rocks, sticks, trash, roots, etc.) from the site. I also spray down the area with the water hose at least three times to help level the area. This will remove some air in the earth and help pack it down.
9 When finished, a grass-free site one foot bigger than the size of the pool is free of most of the small debris and level to within one-half inch or less.
The pool can now be installed on the site. It is install ready.
COST TO DO A SITE PREP ONLY FOR AN ABOVE-GROUND POOL IN ORLANDO
| | |
| --- | --- |
| | |
| | |
| | |
| | |
| | |
| | |
| | |
| | |
| | |
| | |
| 12'x24' Oval or Rectangle | |
| 15'x30' Oval or Rectangle | |
| 16'x32' Oval or Rectangle | |
| | |
| 21'x43' Oval or Rectangle | |
Price good for up to 12 inches of off-grade leveling
Travel charge for areas outside of greater Orlando
Does not include nutgrass killer
Does not include hauling away the grass/sod. I will place it anywhere you want in the yard though
SITE PREP ALSO AVAILABLE FOR METAL-WALLED AND ALL OTHER TYPE ABOVE GROUND POOLS
WHAT IS NEEDED FROM YOU TO HAVE ME DO A SITE PREP FOR AN ABOVE-GROUND POOL
A 4.5ft wide access to the site for my machine
B Telling me exactly where you want the pool to go
C Telling me where in the yard you want the sod/grass that I remove from the site
D A water hose long enough to reach the pool site (so I can spray down the area during the leveling process)
E Payment at the end of the job ( I accept only cash or local check)
A COUPLE OF SIDE NOTES
I am not responsible for anything I hit in the ground like electrical or water lines. If I run into irrigation lines, I will cut them back away from the pool site and mark them so you know where they are for re-routing at a later date.
If I run into ground that is too wet or something that prevents the job from completing (like a septic drain field for example) then I expect you to pay me for my time spent. IF THIS IS AN ISSUE FOR YOU, THEN PLEASE LOCATE ANYTHING IN YOUR YARD PRIOR TO ME GETTING THERE.
Best if you install the pool within a day or two of my ground prep. Every time it rains, the site could be negatively affected.
I will get the ground as prepared and level as possible using the best tools available and 36 years of leveling knowledge, but it won't be perfectly level. That is not possible unless you use something that hardens (like concrete)
After you have assembled the pool, I recommend filling it with about one foot of water, resetting the upright supports to straight, then placing a smaller patio stone under each support. You will have to dig them into the ground some to make them flush with the level site.
Please contact me by text if possible. I don't check my voicemail or emails as often during the busy season.