As the economy has recently become more challenging in Orlando, more are choosing the less expensive option of getting an above-ground swimming pool over a concrete-type.
And those going this route will bury or sink an above-ground pool in the ground partially to make it like an inground pool.
Having a semi-inground pool in Orlando will require extra steps over just installing a pool on top of the ground. It may be hard to find an installer that can dig the hole along with installing the pool. This can mean having the hole dug by a separate excavator first, then having the pool installer assemble the pool in the hole.
THE STEPS IT TAKES TO HAVE A SEMI-INGROUND POOL INSTALLATION
1 Decide how far in the ground
In most cases, above-ground pool manufacturers will recommend only sinking their pool about halfway in or approx. 2.5ft down. They will also void their warranty if you go down further than what they recommend.
As an installer in Orlando for 36 years, I agree with this unless you are planning to build a full retaining wall around the pool, which is expensive.
2 Make sure you have enough room
The hole required to sink an above-ground pool has to be bigger than the size of the pool. This means that you will need enough space in your yard for your pool AND the hole it's going in.
If your yard is small or the area where you want the pool to be sunk is tight, then you have to consider the room the machine will need to dig the hole as well.
3 Determining where the dirt will go
Some of the earth that came out of the hole will go back in after the pool is completed and filled (backfilling) but a lot of it will not.
Many have a big enough yard to use the extra earth on certain areas or spread it out. Others though will have no choice but to have the dirt removed from their property.
4 Digging the hole
After laying out where the pool is going and how deep in the ground it will be, it's time to dig the hole.
With this, your options are the pool installer is digging it, you found an excavator to dig it, or you rented a machine and are digging it yourself.
NOTE: Oval-shaped pools need much bigger-sized holes dug. This is because they have buttresses that stick out along the straight sides of the pool. And they need to be leveled too.
| | |
| --- | --- |
| | SIZE OF HOLE NEEDED FOR 2' SEMI-INGROUND |
| | |
| | |
| | |
| | |
| | |
| | |
| | |
| | |
| | |
| | |
| | |
| | |
5 Installing the pool
Now that the hole is dug, you can have the pool installed in the middle of the hole.
NOTE: The hole has to be big enough and somewhat level for the installer. If too small or too off level, the installer will charge more to if they have to shave the hole or level more than six inches of grade.
6 Backfilling
When the pool is completed and full of water in the hole, you can now have dirt put back around the pool.
NOTE: Some may choose to build a retaining wall. If that is the case, then the retaining wall is built BEFORE the pool goes up.
NOT MANY ABOVE-GROUND POOL INSTALLERS IN ORLANDO CAN DIG THE HOLE FOR A SEMI-INGROUND INSTALLATION
Orlando's Orange County and the surrounding counties of Osceola, Lake, Seminole, and Volusia don't have many above-ground pool installers to begin with.
And there are even fewer of us that have machines able to dig a hole for a semi-inground install. Plus, even if an installer has a machine, he may not know how or want to dig the hole regardless.
The result here(in the Orlando area) is that many wanting to get an above-ground pool partially sunk or buried in the ground wind up having to find and hire a digger independent of the pool installer.
I CAN DIG THE HOLE, BUT NOT HAUL ANY DIRT AWAY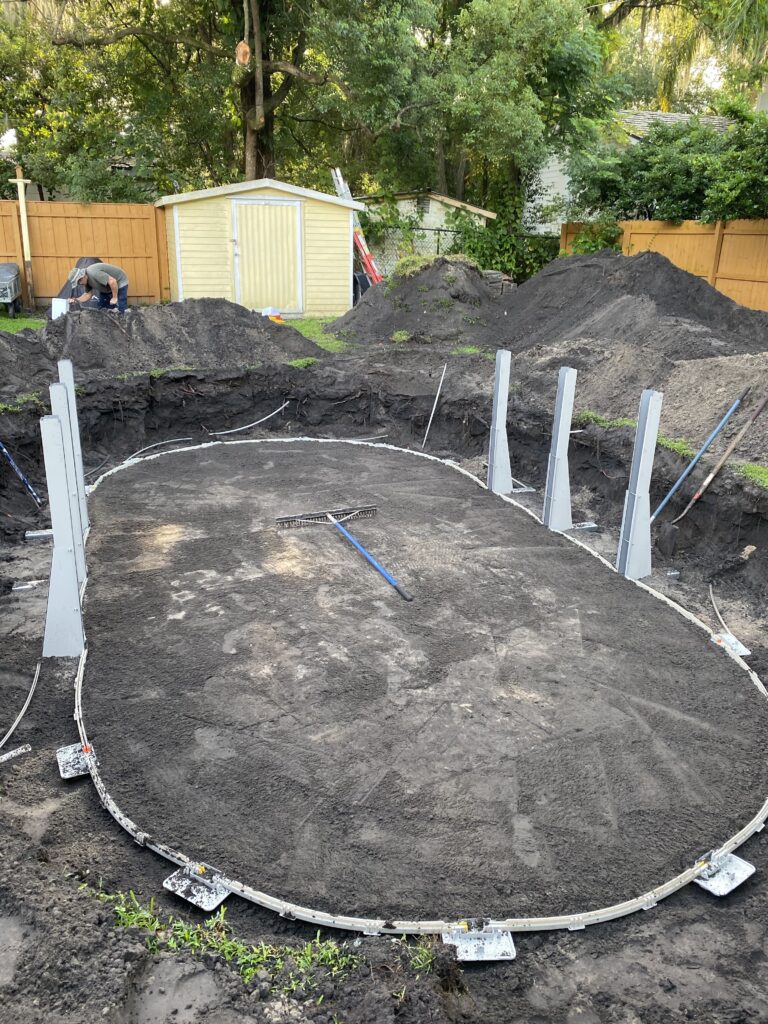 As a local above-ground pool installer with a machine, I have dug the hole and installed quite a few pools in Orlando and surrounding towns. But I do not haul away any dirt.
This can be another limiting issue for those wanting a semi-inground pool. The installer can dig the hole but cannot haul any dirt away.
Personally, I use my skid/steer machine in almost all of my above-ground pool installs be it they are on top of the ground or buried some. For this, I don't need a dump truck or dump trailer, so I don't offer this when digging a hole.
INSTALLING A SEMI-INGROUND POOL NEAR BIG TREES? YEAH, YOU'RE GOING TO DIG UP SOME BIG ROOTS
Orlando and all of Central Florida have a lot of trees. Each type of tree will have roots with different characteristics.
It doesn't matter what kind of tree though. If it's huge and fifteen feet or closer to where the hole is being dug, then you are going to hit big roots. Some may have to be cut out.
Warning! If having a hole dug close to a big tree, there may be an extra charge for excessive root removal.
DIGGING A HOLE FOR A SEMI-INGROUND POOL INSTALLATION IN ORLANDO IS EASIER THAN IN MOST AREAS OF THE COUNTRY
The ground here in Orlando and most of Central Florida is fairly loose and sand-based. This is good for digging a 2-3 foot deep hole for a swimming pool.
IF DIGGING NEAR A LAKE OR ANYWHERE EAST OF ORLANDO, YOU MAY HIT GROUNDWATER
Orlando is fairly high and dry, but as you travel east, the ground gets lower.
Areas in Oveido, Geneva, Chuluota, Union Park, and east of Conway can start to get wet when you try to dig down below 12".
IF YOUR YARD IS SLOPED, YOU MAY ONLY BE ABLE TO GO DOWN AS FAR AS YOU WANT ON ONLY ONE SIDE OF THE POOL
For the most part, Orlando is flat. Getting into Lake county in areas like Clermont, Ferndale, Howey-in-the-Hills, or Montverde can get hilly.
If your yard already has a slope to it and is off by a foot or more, then if you want the pool to go down two feet, that would mean that one side of the pool (the high side) will be three feet down, which may be too deep.
If your yard is sloped where you want a semi-inground pool, consider that the pool may go down the maximum from the highest point of the area. This could mean that half of the pool is only one foot in the ground.
6 THINGS YOU MAY RUN INTO WHEN DIGGING FOR AN SEMI-INGROUND POOL IN ORLANDO
When my family came to Orlando in 1972 (following the Disney World boom), only one hundred thousand people were living here. Now, it's something like between 3-4 million in the greater Orlando area.
Over these years, there has been an ongoing housing boom, so there are many homes here that are decades old.
Older homes can have things buried in the yard that you may run into when digging for a semi-inground pool.
1 Septic tank and drain field
Most new homes don't have septic tanks but many older ones in Orlando do. And you can't install a pool next to a septic tank or in its drain field
2 Old septic tank (not in use)
For one reason or another, a new septic system is installed in a different location. When that is done, they usually leave the old tank and drain field in the ground.
Finding an old drain field when digging for a pool is not fun.
3 Old big tree stumps
I say "big" stumps here because little ones don't matter as they can be removed by the machine. Big ones though won't move and need to be cut out or the pool location moved.
4 Old concrete pads
I have run into old concrete patios that were buried and old bottoms of concrete walls that are no longer in use.
5 Water
This is a big semi-inground pool project stopper. Groundwater!
Not much you can do here except put the pool above the groundwater level.
You can install a "well point" and pump the water out while digging the hole and installing the pool. For above-ground pools going semi-inground, this is rarely worth the cost and time.
6 Water mains and electricity
These are the biggest "no-nos" to run into when digging a hole. It's always best to have electric and water mains located before digging.
IF WANTING TO HAVE AN ABOVE-GROUND POOL BURIED SEMI-INGROUND IN THE ORLANDO AREA THEN CONTACT ME FOR A PRICE.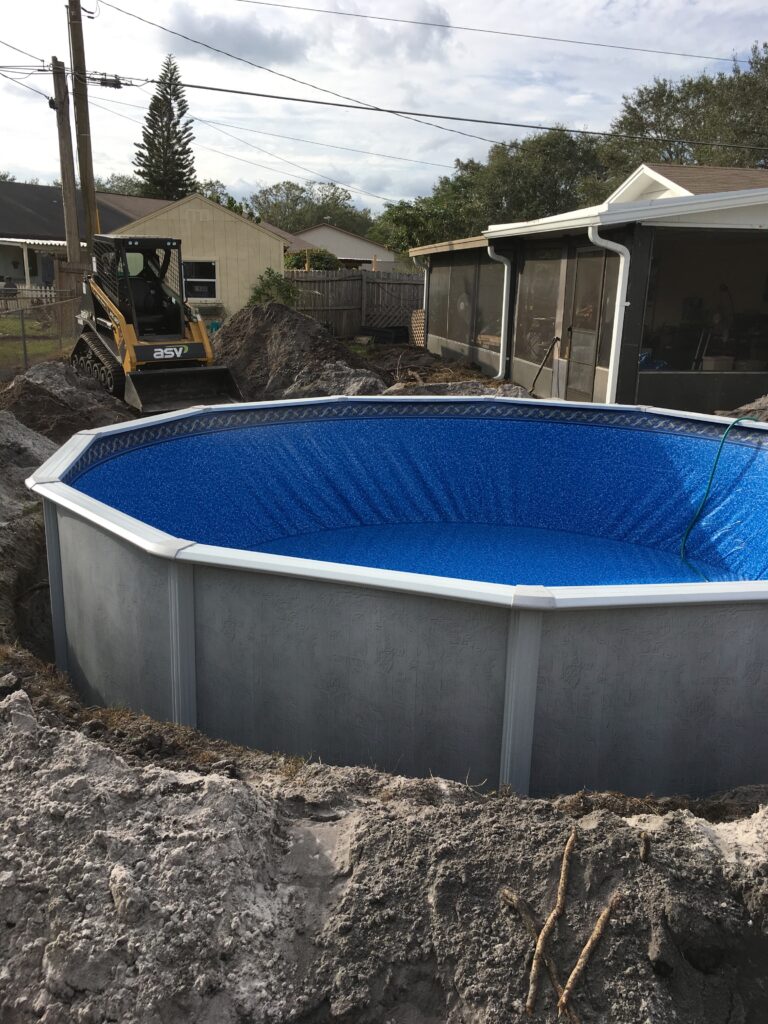 I will install semi-inground pools in most areas of Central Florida including Winter Park, Altamonte Springs, Winter Springs, Apopka, Clermont, Ocoee, Wither Garden, Kissimmee, BVL, Hunter's Creek, St Cloud, Narcoossee, Lake Mary, Sanford, and surrounding areas.