Are you looking for parts for your existing above-ground swimming pool in Orlando? Odds are that you won't find them.
Since the vast majority of above-ground pools are bought online, there is no official inventory of parts available in Orlando. You will have to find them online.
WHAT ABOVE-GROUND PARTS PEOPLE ARE USUALLY LOOKING FOR
Metal-walled above-ground pools are made of either a steel or aluminum wall and then a frame made of many parts.
The frames can be made of a mix of steel, aluminum, and resin parts. Usually, parts made of steel that rust are the ones people are looking to replace.
Some resin parts will break or crack over time too and need replacing.
The most common parts people are looking for are:
1 Top rails
2 Top stabilizer bars (under the top rails)
3 Top connector plates (under the top rails)
4 Top caps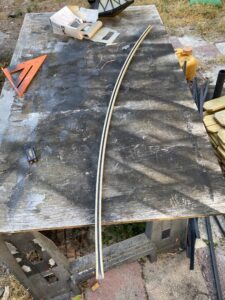 Many of these parts can now be found online.
IF LOOKING FOR A REPLACEMENT WALL ONLY. FIGURE ON GETTING A WHOLE NEW POOL
Manufacturers don't like selling replacement walls. This is because it is very problematic to just replace the wall and leave the existing frame.
In the now 37 years that I have worked on above-ground pools, I have only successfully replaced two walls with existing frames. Unless your pool is almost new (less than two years old and has a warranty issue with the wall), don't bother trying to just replace your wall.
Of course, you can try if you want. Some will always try. Then most will wind up getting a new wall AND frame after either finding out how much a wall costs OR attempting to remove their old wall while still keeping the frame in good shape.
IF YOU HAVE A WILBAR-MADE ABOVE-GROUND POOL, YOU MAY BE IN LUCK FINDING PARTS FOR IT IN ORLANDO
The website that sells most of the online parts for Wilbar pools is inyopools.com. They are an online-only store but have a warehouse located in Longwood where they keep an inventory of AG parts.
Under normal conditions, you would contact Inyo and purchase the parts you need and they would ship them to you. If you are local though, you may be able to swing by their warehouse and physically pick them up. Maybe.
IF YOUR POOL WAS PURCHASED LOCALLY FROM UNIQUE POOLS, YOU MAY BE ABLE TO GET PARTS, BUT PROBABLY NOT
In the last five years or so, Unique has been selling the same model pools from the same manufacturer. This is a good thing if you bought from them in the last five years as they may be able to get parts.
Most likely though, you will have to get them from the company that manufactured the pool directly.
If you bought your pool from Unique some years ago, then there's almost no chance that you can get parts through them. You can call them though and know for sure. In the past, they have sold Doughboys, Wilbars, and the now defunct Swim N Play pools, so it will be hard to say what you have.
IF YOUR POOL WAS BOUGHT LOCALLY BY A PINCH-A-PENNY STORE, YOU MAY BE ABLE TO GET PARTS FROM THEM, BUT PROBABLY NOT
Pinch A Penny has sold the same models of Wilbar pools for years, which is great. They may have some above-ground pool parts available through their warehousing system.
If you have the original paperwork or email of the purchase, that may help them see if they have what you are looking for.
Most likely though, Pinch will tell you to contact Wilbar, the manufacturer.
IF YOUR POOL WAS BOUGHT LOCALLY FROM A LESLIE'S POOL STORE, THEN YOU WILL MOST LIKELY HAVE TO GET PARTS ELSEWHERE
To my knowledge, Leslie's pool stores are all corporate owned and they don't deal with above-ground pool parts at all. Things may have changed though now that we are in the post-coved era, so check with them first.
WHERE TO FIND ABOVE-GROUND POOL PARTS ONLINE
There are a couple of websites that sell Wilbar pool parts. Wilbar made a deal with inyopools.com to provide and sell all of their replacement parts, however, some other sites have them available also.
The two websites that I know of that sell Wilbar parts are inyopools.com and recwarehouse.com
Inyo pools is good in that you can call them and they will help you identify which pool model you have.
The second most popular above-ground pool manufacturer is Doughboy. Other than through them, it's almost impossible to find replacement parts. So, if your existing pool is Doughboy-made, somehow get ahold of them, and good luck.
Above-ground pool parts are in no way interchangeable. YOU MUST HAVE THE EXACT PARTS FOR YOUR MODEL OR THEY WON'T FIT
HOW TO FIND OUT WHO MADE YOUR POOL AND WHICH MODEL IT IS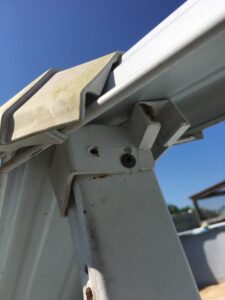 It may not be easy to determine who made your pool and which model it is. Even though the umbrellas of Wilbar and Doughboy make up 90% of all above-ground pools, there are a lot of different models and some obscure makers.
This is what I recommend:
1 Find your original paperwork or purchase email
This is by far the best way to know what you have. And even with this, it may still be hard as receipts can be unclear with names.
If you do find your purchase info and still can't make out what you have, then contact the retailer. They may have a record of your purchase and/or someone there that can help by remembering what they sold the year you bought from them.
2 Check inyopools.com
This website has the biggest selection of above-ground pool parts. Plus they will help you through emails if you need it.
3 Join my Facebook group "Above ground swimming pools group"
This is not me trying to promote my group. In truth, this group is too big and takes up too much of my time. But with 400+K members, it's the biggest group about above-ground pools online.
Posting pics of your pool there may find someone who can identify your specific model.
IF YOU STILL HAVE TROUBLE FINDING OUT WHAT YOU HAVE, YOU CAN CONTACT ME. I'LL TAKE A QUICK LOOK AND SEE IF I CAN HELP